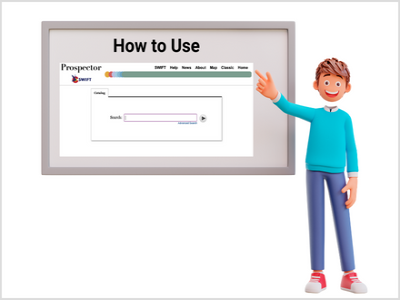 Remember that time when you needed a book that Strauss Library didn't have but CU Boulder's library had several copies? Or how about that time when you wanted to get your hands on a DVD but couldn't squeeze time from your busy schedule to get to the public library for at least a month? Well, Prospector is here to help! Navigating to the Prospector site is easy and within moments you can have access to the full catalog containing millions of items.
From the library homepage scroll to the Resources tab and select the Borrow from Other Libraries link. On the following screen click on the Search Prospector page. A new window will open with a search box (you can search by title or author name. There is also the choice to do an advanced search which allows for additional options including Keyword and Subject). Once you have searched for an item a new screen will open allowing you to request the item or to further refine the results if necessary.
Once you have selected the item that you wish to request, a new screen will pop up asking with which institution you are affiliated. Please select "Alliance – UC Health Sciences" from the list. A second screen will then ask for your name and Institutional ID Number. There are a couple quick tricks for successfully ordering; your Last Name only is needed in the name field, and the Institutional ID Number is your Student or Faculty ID Number. Once you have ordered, a verification screen will confirm that it was successful.
Most Prospector items arrive in approximately one week, and staff will contact you to arrange pickup in our contactless lockers!
These services are free for all employees and students of CU Anschutz and are easy to use. If you have questions about Prospector, please contact the Prospector Coordinator Andrew.J.Gagnon@cuanscutz.edu or use AskUs.
More information about Prospector is available on the library's website.