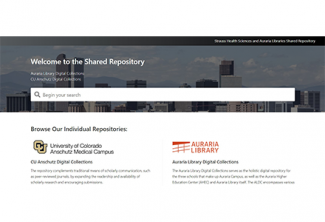 The Strauss Library's CU Anschutz Digital Collections (https://digitalcollections.cuanschutz.edu/) now has a shared search page with Auraria!
The staff from both institutions have been working since last year of creating a shared search so that users can search the repositories of both Strauss Library and Auraria in one search. The landing page, as shown in the image, can be accessed here: https://colorado-digital-collections.org/. Users can also access the shared search by clicking on the banner at the top of the Strauss Library's Digital Collections homepage. The banner reads "Strauss Health Sciences and Auraria Libraries Shared Repository". When users go to the landing page, they can search both repositories in the search bar, or go to each individual repository by clicking on the logo of each one.
The shared search is possible because both repositories use an open source software called Hyku, part of the Samvera software group. Both institutions migrated to Hyku last year, and worked on building the shared search page. The staff had to create a landing page that is inclusive to all the institutions at Auraria, not just CU. We chose a banner with the Denver skyline for our users to enjoy!
The staff had to purchase the URL for the shared search landing page, which took time through the university approval process. We decided to go with Colorado Digital Collections, in hopes that other institutions in Colorado might join us in creating a shared search. We hope to add more partners in the future. Please try our shared search that features both Strauss and Auraria, and browse our digital collections!