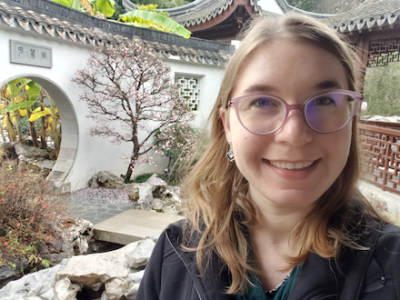 Michelle Schonken recently joined the Collection Management Department at the Strauss Library. As the Electronic Resources Librarian, she manages our electronic resources such as electronic journals, databases, and ebooks. Welcome Michelle!
What is your position title and what is your interest in libraries?
I'm the Electronic Resources Librarian, so I make sure that new resources are accessible and troubleshoot access issues that come up. I'm most interested in how researchers interact with online resources so that I can try to make access to trusted and credible sources as easy as possible.
What is your educational background? What schools did you attend?
I graduated from Wayne State University with a Masters in Library and Information Science in 2017. And I completed my BA in English with minors in Anthropology and Religion at Vanguard University of Southern California.
What made you want to become a librarian?
During high school, I took the Myers Briggs test and noticed that Librarian was one of the top suggestions as a career for my personality type. So, I volunteered at a public library and pestered the librarians with questions about their work whenever I got the chance. Their passion for bringing people and information together was infectious. As a result, I became the odd high schooler who explained to surprised adults what librarians actually do, and why I really, really wanted to become one.
What is your previous library work experience?
I was previously the Health Sciences & Technology Librarian at Marshall B. Ketchum University for three and half years, where I became heavily involved in projects for Vision Science online resources. But I started with a job at a public library over a decade ago and then transitioned to academic libraries. I found my niche in health sciences during my MLIS studies and working with nursing students.
What is your favorite part of your job?
I love contributing to healthcare in my own small way by helping both future and established healthcare professionals. I get to make online research a smoother process for our community.
Would you like to talk about where you are from?
I have great memories of my first few years in Malalane, South Africa, but I mostly grew up in Southern California (Orange County) after my family and I immigrated to the US.
If you could go anywhere in the world, where would you go?
I'd love to explore parts of the UK that I haven't been to before, especially their famous botanic gardens. The Alnwick Garden in particular has a Poison Garden that is filled with toxic plants – many of which helped develop medications of course!
How do you spend your free time?
I love being outside, crafting, dabbling in art, trying new recipes, and reading. I've recently taken up container gardening, and, as long as everything stays alive, I'm enjoying that too.
What is your favorite book?
My favorite book is Guards! Guards! by Terry Pratchett. It speaks to my sense of humor.