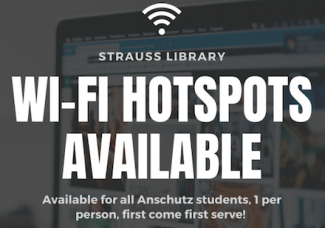 Strauss Library has acquired Franklin T9 Mobile Hotspots for circulation. Today's learning environment requires the usage of the Internet and proper data connection to give students access to journals, databases, ebooks, and other online resources. Often that means getting this information on the go. If you're in need of a convenient, lightweight, and portable way to access the internet, stop by the Strauss Library and check out a hotspot today.
OLED display features include a set of icons that indicates the status of the WiFi connection, current battery level, Internet SSID and password.
Once connected one can enjoy 4G LTE.
Built-in WiFi which supports up to 150 Mbps for download and 50 Mbps for uploads.
Battery life can withstand a standby time of 48 hours or a total of 8 hours of use if using device non-stop.
Strauss Library now offers these mobile hotspots for Anschutz Students with a 2 week circulation period. Come to our service desk for more information or use the chat feature AskUs if you have any questions.