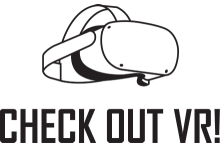 What is Virtual Reality (VR)?
Virtual Reality is a computer-generated, three-dimensional simulation of an environment that can be explored and interacted with in a seemingly real way by a person using a VR headset.
Program Rules:
The Participant Notice of Risk and Waiver must be signed and on file at library's Service Desk before the library's VR equipment can be used.
Strauss Health Sciences Library currently offers two Meta Quest 2 VR headsets, which can be checked out by Anschutz Medical Campus students, staff, and faculty for a period of 7 days.
VR equipment must be checked out at the service desk during open service desk hours, and returned after use with all items in the case before the item due date. The headsets are first come, first served, and no renewals or reservations are allowed.
Requests for purchasing VR apps or software can be submitted via AskUs
You are not allowed to log into your own Meta or Steam account to access your personal library for VR content. Strauss Library is not responsible for your personal accounts.
 
Orientation:
Before using the equipment, we recommend you first familiarize yourself with the device. Email hsl-it@ucdenver.edu or call 303-724-2167 and leave a message with your availability (during the hours of 8am-3:30pm, M-F).
Safety and Taking Care of the Equipment:
Make sure controllers are secured to your wrist during use. 
If you feel nausea or discomfort, take the headset off immediately and sit down. Take frequent breaks from use of the VR headset.
Use of the VR headset is associated with risks. Reactions to a VR experience are unpredictable and may include dizziness, nausea, disorientation, eyestrain, seizures, bumping into objects, or falling. Consult your doctor before use if you have a pre-existing medical condition including, but not limited to, epilepsy, binocular vision abnormalities, psychiatric disorders, or heart conditions.
Do not use the headset if you are: tired; need sleep; under the influence of alcohol or drugs; hung-over; have digestive problems; under emotional stress or anxiety; or when suffering from cold, flu, headaches, migraines, or earaches, as this can increase your susceptibility to adverse symptoms.
You may be held responsible for any damages to the device or missing parts and pieces, including chargers/cables.
Do not allow direct sunlight to shine onto the headset lenses, as this may heat up and destroy the electronics of the device.
If needed, use only static-free eyeglass cleaning wipes (provided at checkout) to wipe headset lenses. DO NOT USE glass cleaner, or any type of cleaning fluid on device, particularly the lenses.
Headsets are issued with the Glasses Spacer in place. If you do not wear glasses, feel free to remove the Glasses Spacer as shown. Please replace Glasses Spacer as shown when you return the unit.
The library makes "best effort" sanitization protocols*.
*Upon device return, the library follows standard practice in sanitizing, resetting, recharging, and removing all browser history from headsets before checking the devices out again.
Initial Use Tips and Tricks:
Access the Meta Quest 2 Getting Started Guide here (covers most of material below - includes videos).
Ground level and Guardian Boundary:

To set ground level for VR, (if it is not detected immediately), a quick way is to simply set a controller on the ground for a moment.
The Guardian Boundary is the "play area" for your VR session which must be marked before you can begin.

You can mark the boundary in "passthrough mode" (black and white view that is visible through the headset of your surroundings, as soon as the headset turns on.
You can either select a demarcated boundary that you draw with the controller, or you can select stationary boundary which is simply a circle around you (no drawing required).

Connecting to Wi-fi:

Wi-fi is needed for use of the headsets. For in-library or on campus wi-fi use, we recommend you check out a wireless Hot Spot. Both the headset and hot spot can be checked out from the Strauss Library Service Desk.

The CU Anschutz Guest Wifi network was previously recommended, however currently there are problems with the headsets and that particular network. The headsets will also not work with other CU networks such as CU Anschutz. (The headsets currently work only with networks that do not need a username to connect).
In your own home or alternate environment to campus, feel free to log the headset in to any Wifi network that accepts a simple password (e.g., does not need a username).

Getting out of VR programs while using the headset:

The exit procedure may vary per program. Often, hitting the Oculus button on the right hand controller will give you an Exit menu. Also, simply restarting the headset via the power button will always work.