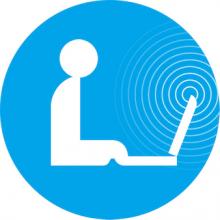 Students, faculty and staff: Primary users with University credentials should use the CU ANSCHUTZ or CU ANSCHUTZ FAST wireless networks (depending on your location within the building).  The CU ANSCHUTZ FAST network appears only in the north end of the building. These networks are more secure than the GUEST network. After the initial setup, your campus username and password will be required to access the CU ANSCHUTZ networks.
Guests: Visitors can use the GUEST wireless network. When using this network, the user is first presented with a "University Policy" web page. You must click the "Accept" button on that page in order to connect. Note: This cafe-style wireless network is not encrypted - use at your own risk.​
Operating systems: Recommended operating systems for wireless include Windows 11, Windows 10, and Mac OS 10.4 or higher. Not all wireless cards have been found to be compatible with our network. Most Android tablets and iPads have also been found to work.
Support: The library's Service Desk as well as Library IT provide limited support for in-library wireless connections. If library support resources are not available, ucdenver.edu and affiliates can also call the OIT Help Desk at 303-724-4357 for assistance.