​Easy: Print from your own laptop and mobile devices  
Secure: Pay at the print station with your own credit card, 10¢ per page for black and white copies, 25¢ per page for color copies  
Available: 24/7 badge access to the library and printer
Click here to install the WINDOWS Printme Driver  
Click here to install the MAC Printme Driver
How to Print
Multiple ways to print - Use your own laptop! Easy as 1-2-3
Method 1 - Load the EFI PrintMe print driver for Mac or Windows  After installing the print driver, with PowerPoint or Adobe Acrobat PDF file, open  
File --> Print  --> EFI Printme select multiple slides per page --> Print   
Note: Printing multiple slides per page from PowerPoint or Adobe Acrobat files requires this print driver.  
Method 2 - Upload or drag drop file(s) go to https://printme.com
You may need to scroll on the printme.com website to get to the "Get Started" button (pictured below)
Click --> Get Started then --> Upload Files

Method 3 - Print via USB flash drive
Method 4 - Attach file(s) to an email to print@printme.com
To retrieve your print jobs, locate a print station at the library.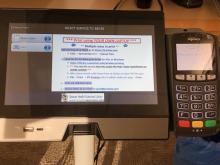 EFI printers are located on 1st floor South (2 printers available) and on 1st floor North (1 printer available).
On the touchscreen, Select Print --> PrintMe --> Insert credit card --> select options (Black & White, color, number of copies, single or double sided, and page range)  
Scan the Email or mobile app confirmation bar code (or enter code) at EFI station
Optional but strongly recommended -- Load the EFI PrintMe mobile app on your phone or tablet
Install app from the Apple App store or Google Play – EFI PrintMe
Create a new Printme account and password using your most used email address
View all your print jobs, print bar codes, time remaining to retrieve print jobs
See how long you have left to retrieve your print (You have 24hrs from when you print until auto-deletion)
The mobile app makes it easy to manage, upload, and view your print jobs in one place.
You can easily print from Canvas Mobile or cloud storage with the EFI Printme mobile app.
Payment Options
Secure Credit Card Payment Option: Pay securely with your own credit card at the print station, we accept the following: 

Visa​
Mastercard
American Express

Reusable print card option: Purchase and refill your reusable print card at the library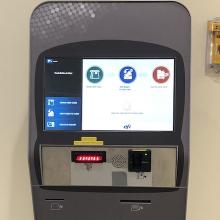 The kiosk will only accept cash payments: $1, $5, $10, $20
The kiosk will not accept coins
The kiosk will not accept credit card payments 
There is a $1 minimum
The kiosk will not issue change 
Refill your print card at the card vending kiosk
Print cards have no cash value
Print cards can only be used for printing at the library
No refunds or replacements if your card is lost or stolen
For card balances, visit our card vending kiosk or the card balance website
The card vending kiosk is located in the 1st Floor North Commons.